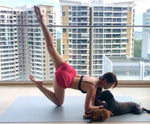 Staying Inspired During Phase 2 (Heightened Alert)
The current measures are not a new experience for most of us. Whether you underwent Singapore's own Circuit Breaker in 2020, or experienced a lockdown of another name overseas before returning home, this scenario is not new. As Covid-19 cases in the community increase, our social freedoms become more limited. 
Unfortunately, due to the nature of dance and fitness classes, public measures for safety and social distancing rules often mean that classes become harder to hold and attend. While these measures are necessary and adhering to them is of the utmost importance, the lack of dance and fitness classes, workshops and spaces can often leave one uninspired.
Fortunately, there are a multitude of ways to keep the dancer or fitness enthusiast in you inspired through this time. We've compiled a list of various activities you can do to compliment the online dance and fitness classes that you'll be participating in, all of which might just help ease your stay-home blues!
1. Freestyle in your space
Whenever you're feeling restless, a quick fix is to blast some music (or pop in your earphones, if you don't want to disturb anyone) and do a little freestyling in whatever space you have. Sometimes, simply feeling the music and letting loose might be exactly what you need to let go of your frustrations.
2. Learn to make your own dance and fitness apparel
Despite how it may feel, we will be able to return to dance and fitness studios eventually. So why not use this time to learn a new skill and prepare your very own, self designed and sewn dance and fitness wear! Keep an eye out for our online sewing courses, and you can event rent a sewing machine and use our sewing space!
3. Watch some dance videos and movies
Sometimes, even the simple act of watching other people dance can help spark your own motivation and inspiration. Youtube is loaded with videos of talented dancers, and there are also a number of classic dance movies (such as Dirty Dancing, Save the Last Dance, and Moulin Rouge) available on streaming services like Netflix and Disney Plus. 
4. Go over your own dance videos
With less competitions and performances going ahead, now is an excellent time to reflect on your past performances. Going through old videos and noting down things that you could work on an improve is an important practice for any inspiring dancer or any fitness enthusiast looking to improve their skills .
Going over your own videos is also a good reminder of your hard work and how far you have come. It is often easy to feel as though you are not making progress, but if you take some time to pause and look back, you'll find that you've improved and grown so much over time!
5. Journal your thoughts
Penning down your thoughts is a good way to keep yourself focused and inspired, so why not use this time to start a journal to keep track of your dance and fitness goals, progress and other thoughts you may have! It can be as simple as writing down a few bullet points, or as elaborate as you want to make it (a dance scrapbook full of memories even!)
6. Take a break
It's important to know that it is 100% ok if you want to use this time to pause, reflect, and take a break. Especially for those with injuries, this period can be your down time to heal and rest. For those who feel overwhelmed by the current situation, it can be a time to focus on your emotional and mental health. The dance and fitness world will always be here to welcome you back when you are ready and excited to get back to it, but whenever that is for you to decide.
***
Whether your solution to the current situation is to dance it out everyday or to take a hiatus from dance, the dance community is here to support you and will help you get through this period.