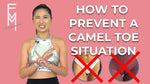 How To Prevent A Camel Toe Situation
Camel toe, the bane of all women, especially dancers! When you walk into class and you can kind of see shapes hanging out there... not cute. So, there are certain ways and certain things we can do to prevent that. And it's really simple! You probably already have them at home. Or if not, just hop down to your grocery store and you can totally get it.

You need some panty liners. Now for panty liners, you have to be a little bit more particular about that. We want to choose panty liners that are a little bit thicker. The reason why we want to choose panty liners that are a little bit thicker is because we want to make sure that it doesn't concave back in. We've got 2 here and we're going to show you. This is a thin one: you can see it's shorter and it's really thin. We have another one here: it's a little bit longer and also a lot thicker. If I compare these 2 panty liners side by side, you can see the difference in the length, and if you see side to side this one is definitely a lot thicker than that. Now, when choosing panty liners, you will want to go for the thicker one, not the thinner one. You can see the thinner one is flimsy and will even concave back in; we want to make sure this happens as little as possible. This other panty liner is not so easily bendable, which is a good thing and it's longer.

Now, one of the very very important things that you need to remember to do, is when pasting down your panty liner, you're not just going to put it right under. You kind of need to go a little bit forward. I'll show you what I mean. When you have your underwear, you're basically going to make sure you paste it a little higher than where you would paste it normally. You don't want to start it right in the middle or the centre seam. Meaning, if you're here, you don't want to stick it right in the middle. You want to go slightly further up to the front. So, in a way higher up here and not lower down there. So what I'm going to do is just stick it down about where 2/3 of where the panty liner is, stick it down in the center seam, so that when you wear your underwear, it is going to be slightly higher up. This is important because we don't want just the bottom tip of the panty liner to just be holding it, you want it to go further up so you have mor coverage.

For some people you may say that this is still not enough for me and it still concaves in. The other thing that you can do is that you can take one more panty liner and stack it on top. So when you wear your tights, you are super safe to go. You can see how the shape of it is now formed. It is very curved and there's no way it is going to concave back. So this is definitely one thing you can do.

Another way is, if you don't want to wear underwear, you can stick the panty liner directly to your tights. It is entirely up to you and this will definitely work as long as you choose a slightly different panty liner.

Let me know if this method works for you. I know it does work for me, but if you have any other methods please share and we will like to update everyone about it too! Comment down below with any of the methods that you have. Please like and subscribe over here, and we'll see you soon. Bye!