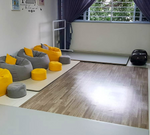 So You Think You Can Dance at Home? - Setting up a Home Studio
When dance studios were forced to close their doors during Circuit Breaker in Singapore (and various other Lock Downs across the world), people started to dance and workout in whatever space they could spare in their homes. With the introduction of online courses and video lessons, the dance and fitness world adapted to ensure they remained accessible to all those who wanted to continue practicing their skills, and even made dance accessible to a new group of beginners who began to see dance as a viable home work-out and new hobby to enjoy.
Dancing and working out at home also introduced a slew of new problems. Apart from a small minority who already had dedicated dance studios in their houses, most people found that their homes were not adapted to dance. Whether it was the lack of necessary equipment or the wrong flooring, dancing at home was seen as a temporary fix rather than a viable long-term solution.
However, that does not have to be the case. With the great uncertainty that the dance and fitness world faced during the pandemic and may continue to face in the future, more people realised the importance of investing in a good home studio set-up. Even as the world slowly recovers from the social effects of Covid-19, more people are considering how they can better accommodate their homes to become viable dance and exercise spaces, especially when big studio spaces are no longer always an option.
Home studios are a rising trend and a worthy investment. While professional studio spaces are still essential for choreography and classes, smaller home spaces are an increasingly popular choice for individual and technique focused exercises and training. They also allow dancers to practice and train with a more flexible schedule – when you're not rushing to the studio or desperately trying to arrange your timings with whatever available slots are on offer, you're able to channel that extra time and energy into your dance and fitness routine. After all, there's nothing quite like being able to put on your dance shoes whenever you want to dance your troubles away!
A good home studio is one that not only has the equipment you need to allow you to focus on your dancing, but is also one that is safe and does not disrupt the other aspects of your life. The thought of setting up a studio in your home can seem quite daunting, especially if you don't know where to start. Especially for those working with limited space, setting up a home studio can seem like a far-fetched dream. Fortunately, we have the advice and tools to help you set up the home studio that's right for you!
1. Always invest in proper flooring and mats
The floors of dance and fitness studios are adapted for the safety of their users – they have various levels of cushioning and shock resistance to help minimise the risk of injuries, and are design to withstand the footwork and footwear of the relevant activities. Investing in
dance and fitness mats
for your home is essential in keeping you and your family safe while you go full out!
Those with the space to spare might consider getting a larger mat that can be taped down for a more permanent setting. However, for those working with smaller spaces or need a more temporary set-up (such as those in student dorms or rented accommodation), there are
dance and fitness mats
 of smaller sizes that can be rolled up and kept away for your convenience, allowing you to dance/exercise safely and still save space!  
 

2. 

Use the proper equipment
In a pinch, we have all found substitutes for one of the most essential features almost every dancer uses – a barre. Short term make-shift barres have included towel rails, chairs, kitchen counters, and just about any surface we can put our weight against. However, these are not viable in the long term. Proper barres are built to sustain maximum weight and pressure levels when you're using them (whether for fitness or dance purposes) and need to be of the right height to ensure that you're not under or overworking your muscles. If you're looking to set up a home studio,
portable barres
with a strong and sturdy base are well worth looking into. 
For specialty dances like
pole
, having the proper structure in place is even more essential, as improper substitutes are an accident waiting to happen. Ensuring your equipment is stable and strong is the first step to keeping you safe. 
3. Check yourself before you wreck yourself – literally.
Being able to see and correct yourself is a necessary part of improving as a dancer. For those working with limited budgets or space, setting up your phone to video yourself and watching it played back will help you spot the mistakes and areas for improvement that will help you grow. 
However, if you do have the budget and space, we recommend getting a good
mirror
so that you can correct yourself in real time. Being able to know what you need to work on as you're working out results in faster and more accurate self-corrections, and allows you to build good habits when dancing and exercising.
4. Ensure your dance space fits into your home life
You should not have to upset any element of your home life to set up your home studio! A good dance studio is one that allows you to do what you enjoy without worry for how it might affect your surroundings. Ensuring your equipment has safety features to prevent accidents around the home, or making sure your equipment is pet and child safe as necessary gives you peace of mind, and a peaceful mind helps you achieve a healthier body! 
If you don't know where to look, all of
Free Movement Solutions' innovations
are designed with your home and safety in mind! 
5. Keep organised!

Most importantly, ensure all your dance and exercise necessities are in one convenient place for you to ensure you're never missing what you need. Proper attire? Footwear? Equipment? Keep them together so you're never worried about misplacing your items, and keep your dance and fitness routine a stress free one!
***
Still have some questions regarding the set up of your home studio? Email us at enquiries@freemovementsg.com and we'll try to get back to you when we can!