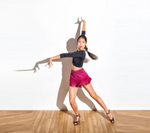 Get to know the Dances! - Jazz
Welcome to our "Get to know the Dances!" series – a collection of posts that will look behind the choreography and classes of the various dance styles, to provide you with a quick history of the dance that you enjoy (or are thinking about) dancing! We hope that these will provide you an understanding of the dance, and by getting to know its history and development, you will have a greater connection and/or interest to the dances!
We're starting off our series with Jazz Dance – Often viewed as a fundamental component of a dancer's repertoire, Jazz dance has influenced many other dance styles, such as Swing and Musical Theatre, and is often incorporated into many performances. It is commonly associated with American dance shows like "So You Think You Can Dance" as well as many Broadway musicals.
Origins
While Jazz is most commonly associated with the USA, its actually originates from Africa, and was actually brought over by African slaves when they arrived in America. Rhythms and movements from traditional and ritual African dances provided the foundation of which Jazz was born. Dance movements and an improvisation of rhythmic vocal sounds and clapping were a rare source of enjoyment and hope that the African slaves partook in, and was used as a way to remain connected to their heritage.
Performance Art
Throughout the 19th and early 20th century, Jazz became an increasingly popular entertainment form, with more Americans and Europeans enjoying the emerging style. Jazz dance was adopted into minstrel and musical comedy shows, and was often performed in entertainment shows and night clubs. However, it was seen more as a performance art than a formal dance style, mostly being performed by entertainers without dance backgrounds, rather than by professional dancers.
Jazz in the Movies
In the 1930s, Fred Astaire, perhaps one of the most influential performers of all time, brought Jazz to the Big screen, often incorporating jazz dance into his choreography for movie musicals. As a professionally trained dancer, Astaire's used his ballet technique to refine the movements of Jazz dance, thereby increasing its popularity in the dance world. With this newly introduced elegance to the style of Jazz, more dancers began to learn Jazz dance, and it slowly became accepted as a formal style of dance.
Social Dance
However, Jazz was not only for professional dancers. With the popularity of night and social clubs in the 1950s and 60s, jazz began to influence the social dances enjoyed by the public. The most famous of these social dances was "The Twist". Jazz was seen as an upbeat and modern dance form that could be enjoyed by all ages.
Jazz as we know it today

Today, Jazz is viewed as a technical dance form, and is often included in the curriculum of dance schools in Singapore and around the world. It remains a popular style for movies and musicals, having been used in the choreography for "Chicago", "West Side Story" and "Fame".
Thinking about starting Jazz?
While Jazz dance might seem intimidating because of its technique, it is important to remember that it throughout its history, Jazz has been enjoyed by every member of the public. Above all it is about the enjoyment of life and can be done by anybody who wants to partake in it! If you're looking into taking a Jazz class, drop by the Free Movement dance studio on Tuesdays at 10.30 am, where Nariko will be teaching a beginners' friendly Jazz class!