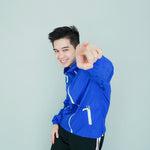 Get to Know the Dances - Locking
Welcome back to our "Get to know the Dances!" series – a collection of posts that will look behind the choreography and classes of the various dance styles, to provide you with a quick history of the dance that you enjoy (or are thinking about) dancing!
This week, we're looking at Locking – a style of funk dance that has become increasingly popular over the years. Locking comprises simple, easy-to-learn movements that are based off the actions we do on a day-to-day basis, just in an exaggerated movement. It combines different rhythms, stops and characterisations, with the end result being an extremely entertaining dance for those watching it, and a really fun activity for those performing it!
Origins
Locking is actually named after its inventor – Don "Campbellock" Campbel, who invented it by happy accident! Whilst trying to perform a move called the "robot shuffle", he made a mistake and stopped at a particular  point whilst moving his arm, and this created a "locking effect". He wasn't able to perform the move fluently, and he couldn't remember which step to take next. When the audience began to laugh at Don for this, he responded by pointing at them. These halts and points soon became popular, and Don added them into his future performances – thus, locking was born.
Improvisation
It's unsurprising, given its origins, that a large aspect of locking is its improvisational element. Whilst there are signature moves and choreographies developed by pioneers of the style (such as the Jackson 5, and the GoGo Brothers) many dancers will often add their own unique twists to these variations. Locking provides dancers with a lot of opportunities for self-expression, and creates a safe space for dancers to explore their own movements and styles.
Locking in Today's Society
Now a widely appreciated form a street dance, locking can be seen in all areas of life. It is often incorporated into dance movies like the Step Up series, is a popular choice by buskers all around the world, and can be learnt in dance studios as well!
Thinking about Learning to Lock?
Locking is a great choice to start with if you're looking to get into dance! With a strong emphasis on self-expression and having fun, it's a style that anyone from any background can get into. If you're looking into taking a Locking class, drop by the Free Movement dance studio on Tuesday's at 7.30pm for our beginner friendly locking class!