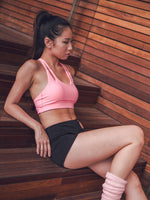 Staples of a Dance and Fitness Wardrobe
Every dancer and fitness enthusiast needs a reliable wardrobe to give them the proper support and confidence they need to give it their all during their classes and activities. While each person has their own style and unique taste, there are undoubtedly certain pieces that will always be needed by all, regardless of the style or type of activity they chose to partake in. 
These staples form the foundation of a dance/fitness wardrobe. They are basic pieces that can be paired with a large variety of options for an extensive selection, or can be used to function as a minimalist wardrobe to serve all your class needs. Whether dressed up or dressed down, these staples will ensure that you look professional and tidy, and should give you comfortable options that allow you to maximise your in-studio experience.
1. Black Leotard/Unitard

Probably the foundation piece for all dancers (and many fitness enthusiast), the black leotard is a timeless piece that will always be a good option. The dancer's equivalent to "the little black dress", one will never look out of place when they wear this option to class.
While each person interprets "basic" in their own way, and there are many variations to the black leotard that look good on a person, our choice on this undisputed classic is a camisole black leotard with a low back - this sleeveless option means that your dance of fitness instructor can see your shoulder line clearly and correct your top frame, and the low back ensures that any corrections that you need to make to your posture will can be pointed out. 
2. Cropped Bra Top
The cropped bra top is especially popular for its versatility across various fitness activities and dance styles. Many jazz and street dancers prefer this option to the traditional leotard, and many also wear these for yoga classes, pole fitness and other high impact activities. A cropped bra top should be fitting and provide its user sufficient support to ensure that they feel comfortable when going full out.
Cropped tops come in all shapes and sizes, but our choice is a simple but effective racer back crop top for maximum style and comfort. A crop top like this can be paired with a skirt, shorts or leggings to complete your look.
3. Shorts
Whether you're wearing these under your skirt/dress or wearing them as part of your outfit, a good pair of shorts ensures that you are comfortable and can maximise your leg activity and extensions. They should have a snug fit - if they are too loose or too tight, you might experience discomfort or worry about a wardrobe malfunction in occurring in class.
Shorts can be of various lengths, from booty shorts (often used for gymnastics and certain styles of dance) to bike shorts that rest just above the knee (often used in intensive gym and fitness classes and preferred by those who want a more modest look). Our personal choice pictured above is a simple pair of high-waited shorts for an easy versatile look.
4. Leggings/tights
Some may wonder why tights/leggings are an essential part of a wardrobe for those of us living in a tropical and humid country. Apart from the fact that leggings/tights can give a professional and neat look (especially for those going for auditions), tights also provide light compression of the muscles in the leg and foot which improves circulation and helps dancers to "feel" their legs and engage the correct muscles, while still ensuring that you have unrestricted movements. 
Tights come in all kinds of designs and colours, but if you're looking for a good go-to pair, a basic full length pair in a solid colour (like black or navy blue) is always a good option, and can be matched with almost any top or leotard in your closet!